Netflix DVD Movie Rentals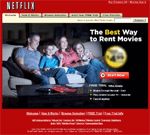 As the largest online DVD rental service, Netflix (www.netflix.com) has revolutionized the movie rental business. They offer DVD rentals by mail for a low, flat, monthly rate. Renting from them provides access to a wide selection of over 100,000 titles, with movies in just about every imaginable genre. Conveniently browse Netflix's selection of movies by category, or search for a specific title you want to rent. Add TV show DVDs or movies to your saved list and Netflix.com will send them straight to your home. Keep your movies as long as you wish, and never pay a late fee. Once you watch a movie, send it back in the postage paid envelope they provide, and they'll ship out the next one on your list. It's that easy!
They offer a variety of plans to suit every viewing level to make it easy and cost effective to rent from Netflix. You can choose from nine different options. The lowest plan allows you to have out two DVDs per month. All of the other plans allow an unlimited number of total DVDs per month, but you are limited to a certain number of DVDs at one time: anywhere from one to eight at-a-time, depending on the plan you choose. Netflix.com's most popular plan, the 3-at-a-time-plan, costs about as much as renting four movies a month at a typical video store, but you could potentially watch six or more movies a week. Their customers say that, on average, they watch twice as many DVDs as they did when they went to a rental store.
Netflix maintains an inventory of more than 55 million total DVDs. Watch movies in popular genres such as Action, Anime, Children & Family, Documentary, Faith & Spirituality, Foreign, Gay & Lesbian, Sci-Fi & Fantasy, Music & Musicals, and Sports & Fitness. Find independent films, special interest DVDs, and television series as well. Blu-ray discs (high definition video) are available from this online rental service. They offer fast, free delivery of your DVDs. The FGI Research survey rated this company #1 in customer satisfaction for five consecutive periods. Additionally, this DVD rental service also makes it possible for you to download and watch movies instantly on your PC. Choose from over 4,000 downloadable movie titles and television shows as part of your monthly package.
Through this movie rental service on the Net, you'll have access to many more flicks than you can find at your local video store, including some DVDs exclusively available at Netflix.com before they are available anywhere else. You can also purchase previously viewed DVDs from this service if you would like to own them permanently.
Blockbuster is their biggest competitor. Netflix often has special offers such as a free trial. See the latest deals by using the following link to a special landing page at this DVD rental service.
DVD Rental Deals > Netflix
---
Copyright 2005-2017 DVD Rental Deals — All Rights Reserved
About — Contact