Blockbuster Online DVD Movie Rental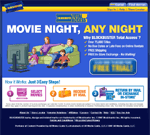 Blockbuster Video's (www.blockbuster.com) primary advantage over other online DVD rental companies is that it allows you to return movies either through the mail or at a local store. With other DVD rental companies, you may find yourself without a movie on a night you particularly want to watch one. Perhaps you've recently finished a DVD you rented online and haven't had a chance to drop it in the mail to receive your next selection. You don't want to pay extra to rent movies locally when you have an online subscription, and with Blockbuster Total Access you can choose to exchange the movie for free at your local store so you'll have something to watch that same night. There are over 1,400 stores in the Total Access network.
Pay just one low monthly fee for Blockbuster's rental service. Select DVDs from over 80,000 intriguing titles. In addition to major new releases, you'll find more than 30 categories to choose from, including romance, action, documentary, children and family, comedy, drama, horror, mystery and suspense, performing arts, and classics. Find holiday films, DVD extras, independent films, gay and lesbian films, Latino films, and movies for every taste and interest. HD DVD and Blu Ray DVD watchers won't be disappointed; Blockbuster has a large offering for you to pursue.
When you rent movies online, there are no due dates or late fees and shipping is free. Just build your list of desired DVDs or TV show titles you want to rent, and Blockbuster will ship them to you from one of over 40 warehouses throughout the United States. Once you watch your movie, either mail it back or return it at a local store—either way, Blockbuster ships the next movie on your list.
Blockbuster offers a variety of plans for every budget and schedule. If you watch a lot of movies, you'll want to select a plan that allows you several movies at-a-time and unlimited in store exchanges. If you watch fewer movies, you might one to choose a two at-a-time plan with limited in-store exchanges. Blockbuster pays shipping both ways, and movies generally arrive in one or two postal days.
Their main competition in online DVD rentals is Netflix. Blockbuster.com often has deals such as a free trial or a discount price for the first month, and you can see the specials at the following link to their deals.
DVD Rental Deals > Blockbuster
---
Copyright 2005-2017 DVD Rental Deals — All Rights Reserved
About — Contact